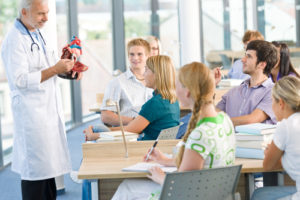 The act of making an incision in the veins is called Phlebotomy and the person who does the venipuncture job is called a Phlebotomist. They are trained individuals who extract blood aseptically from the veins for diagnostic purposes. They commonly use intravenous catheters, syringes, evacuated collection tubes and other blood collection devices to draw blood in the laboratory, emergency rooms and in the room of patient per doctor's order. Basically a phlebotomist collects blood specimen to help the doctors in determining the current status of the patient. Being a phlebotomist is a very risky job because they work around bloods and other specimen which makes them more exposed to blood diseases like HIV, AIDS, STD and Hepatitis B. That is why proper training is essential, not just for the patient's safety but also for the phlebotomist himself.
Demand of Phlebotomy as a Course
Phlebotomy today is quite in demand because of the increasing number of people with disease and illness. Many people are now seeking medical assistance in every sign of physical and unnatural changes they feel in their body. Since a phlebotomist is the one responsible in getting blood samples for diagnostic purposes they are very much needed in hospitals, clinics, laboratories and companies who are into research studies. Due to this demand a lot of schools all over the U.S is opening and offering the training course program.
How to Become a Phlebotomist?
To become a certified phlebotomist the candidate must first finish a formal training course program for a recognized school or institution that offers the said program. The common requirements for the certification are: GED certificate or High School diploma, legal age to work, no criminal records or history of drugs and substance abuse, must be physically and mentally fit and completed the training program from a school accredited by the American Society for Clinical Pathology or the Association of Phlebotomy Technicians or the National Phlebotomy Association. A Phlebotomy certificate will be issued once the candidate passes the Phlebotomy Technician Examination.
Job Opportunities in the Field of Phlebotomy
Once an individual holds a Phlebotomy certification, doors will be open for employment and a bright future waits ahead. A phlebotomist usually works in the hospital laboratories and pathology department, doctor's private clinic, diagnostic centers, community health homes and other private institutions where their services are needed. Many employers seek for a phlebotomist with great work ethics, responsible, keen observer, alert, critical thinker, steady hands and able to talk to the patient with gentleness and calmness. A good characteristic and attitude towards your work is needed to be successful in your job.
Salary Expectations of a Certified Phlebotomist
The salary of a Phlebotomist would vary from state to state, depending on the population of the area or the wage offer of the institution. The lowest annual salary based on the latest statistics is around 24,000 dollars and the highest is 29,000 dollars for an entry level phlebotomist. But once they have gained experience and more seminars and training, the yearly wage would most likely increase from 35,000 dollars to 37,000 dollars. That state that offers the biggest compensation is in New York and California while the lowest is in the state of Georgia. Nonetheless a phlebotomist earns decently.