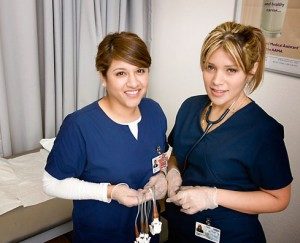 In order to obtain your Phlebotomy certification which then results in the candidate being issued with their Phlebotomy License, an examination has to be written and passed. Whoever conducts this examination, the state you live in or the US government, it is proof that a qualified Phlebotomist will be allowed to practice as a certified Phlebotomist. Not all US states insist in this certification, but in California – they are very strict – no license, no practice, no work.
The Importance of being a Licensed Phlebotomist
Whether the Phlebotomy study course took a year or 6 months to complete, or maybe even a 4 year long and involved degree, a license is required to show that you have reached the required standard to become a practicing Phlebotomist. Skill and experience are not enough – understand that very clearly. An uncertified Phlebotomist will not progress very well in her career as there will be this continual doubt in the employers mind about just how she qualified…
If medical science is your favorite subject, and a lot of interest is shown over the last year or so in the Phlebotomy career, then perhaps that is the path for you to follow. There are plenty of 'on-the-job' training courses with the emphasis on the practical nature of the job itself. And at the end of the course, find out about the certification examination and make sure the exam is taken and passed.
Without a license, mistakes can be made and they can turn into a very big issue for you if you are not protected by your license and you have no recourse to any backup from the accreditation agency. By not having a license, a person leaves himself wide open to be sued for malpractice suits and that is something really worth avoiding so early in a career.
How to Get a Phlebotomy License?
What is the procedure to follow to get a Phlebotomy license? Well, whatever school you are studying at, you have to complete the minimum number of courses they require for Phlebotomy certification. The study course must have met the Health Department guidelines set out in that State. A year or so of experience helps expand the knowledge base. States all differ in their expectations of students qualifications, but the norm is around 1 000 hours of work as a Phlebotomist in the laboratory. This counts very well towards one's license requirements.
There are many certification schools around and agencies online who offer certification courses. At the end of it, a written examination takes place, as well as a demonstration of skills of what has been learnt and whether it has been put into practice successfully or not.
These practical skills are listed here for ease of referral:
preparing the patient before blood extraction / bedside manner
both techniques have to be demonstrated – i.e venipuncture and arterial puncture
quality of care shown to the patient during and after the procedure
methods of safety while delivering the samples to the lab, and processing the blood samples or bodily fluids specimen
preventative procedures used against infectious diseases
discuss the ethics and legalities involved in phlebotomy
show the quality assurance techniques used in the labs
show how to use the materials and reagents in the lab
If all of these points are carried out 100% correctly, the candidate is extremely deserving of his or her Phlebotomy license.
Phlebotomy Licensing Institutions
As we know by now, only 2 states require licensed Phlebotomists, but it certainly gives you a better start in the job market. The person employing a Phlebotomist with a license can be assured that they are getting a very competent member of staff – and that's the whole point. The candidate is rated by an international or national organization and that puts employer's minds at rest. That is why these institutions exist – to implement and carry out regulatory checks and to have an acceptable norm in the industry with which to compare applicants.
Places such as The American Society for Clinical Pathology, the National Phlebotomy Association and the Association of Phlebotomy Technicians all adhere to these standard norms and principles.